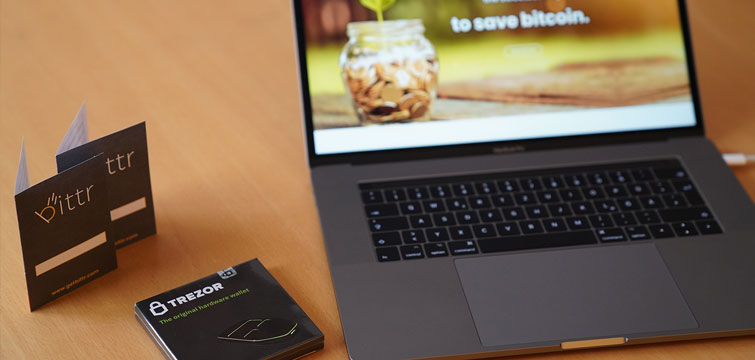 May / 10
How to set up a Trezor hardware wallet?
Ruben Waterman
Tutorials
May 10, 2020
Full disclosure: This post contains references to products for which we may receive compensation when you click on links to those products.
Even though setting up a BlueWallet was quick and easy, it is not the safest way to store your bitcoin. We generally recommend that any amount of €1000 in bitcoin, should be stored in a hardware wallet such as the Trezor or Ledger Nano. While these hardware wallets are both considered to be of high quality and secure, we will go through the process of setting up a Trezor One in this blog post.
Once you unpack the Trezor One, connect it to your computer and navigate to https://wallet.trezor.io. Since we are setting up a Trezor One, we'll be clicking "Trezor One", after which a photo of the Trezor hologram is shown. Make sure that the packaging of your Trezor is not tampered with and always order the Trezor from the manufacturer's website! Click "Continue to wallet" and click on "Install firmware" on the following page.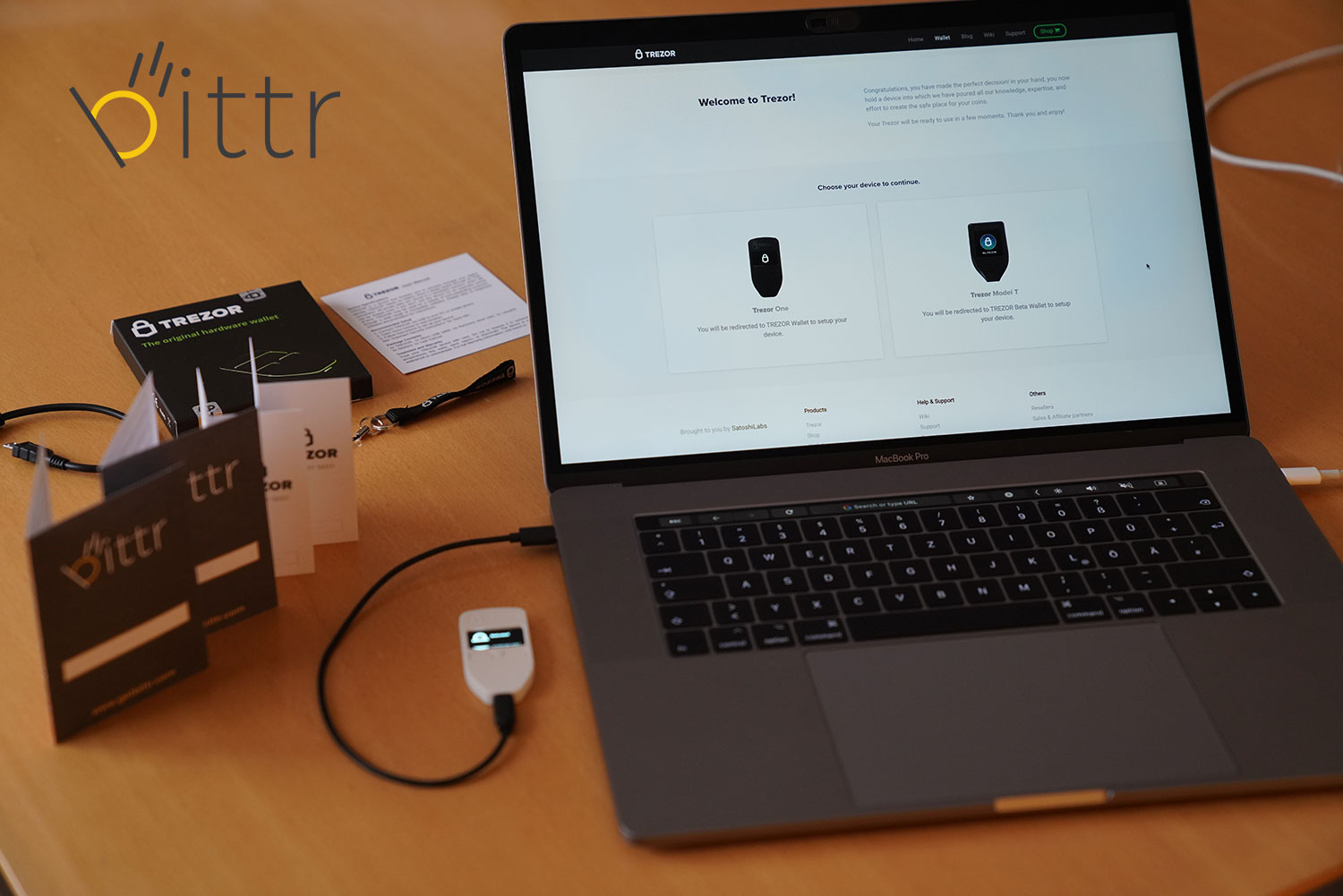 Once the process is finished, you'll see a message "Please reconnect Trezor to continue". Unplug the Trezor from your computer and plug it back in after 5-10 seconds.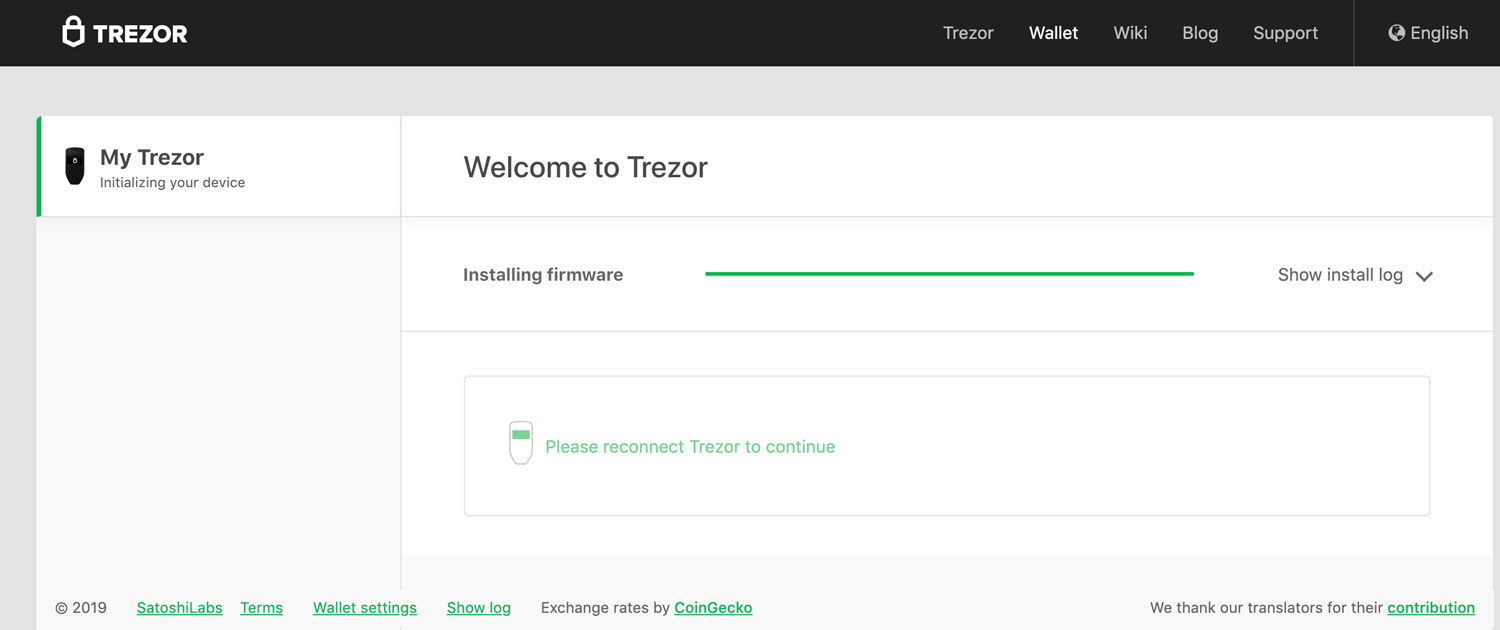 As we're setting up a new wallet, click the "Create new wallet button".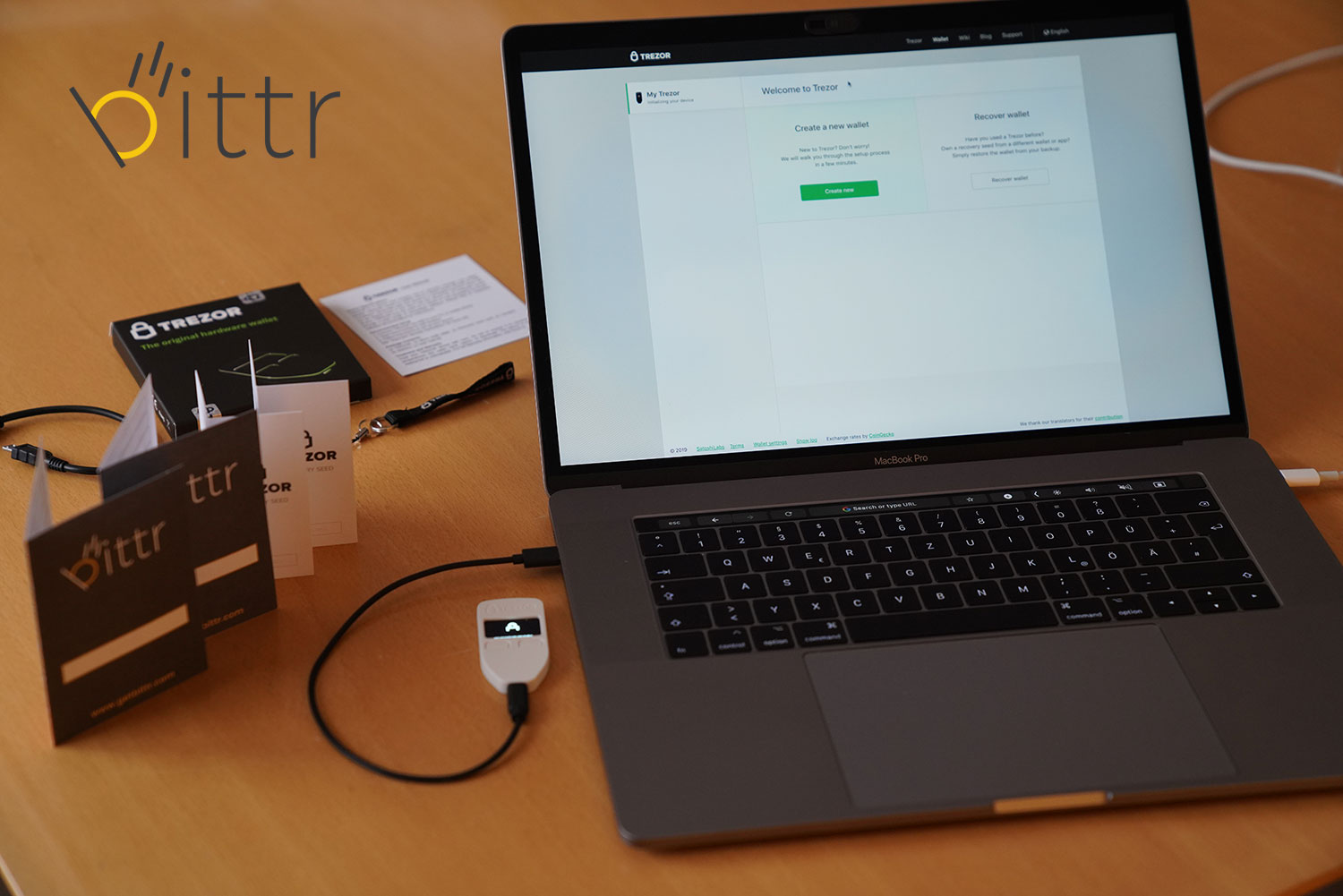 While your wallet is now set up, it's important to create a backup before you deposit any funds into the wallet! So click the "Create a backup in 3 minutes." button.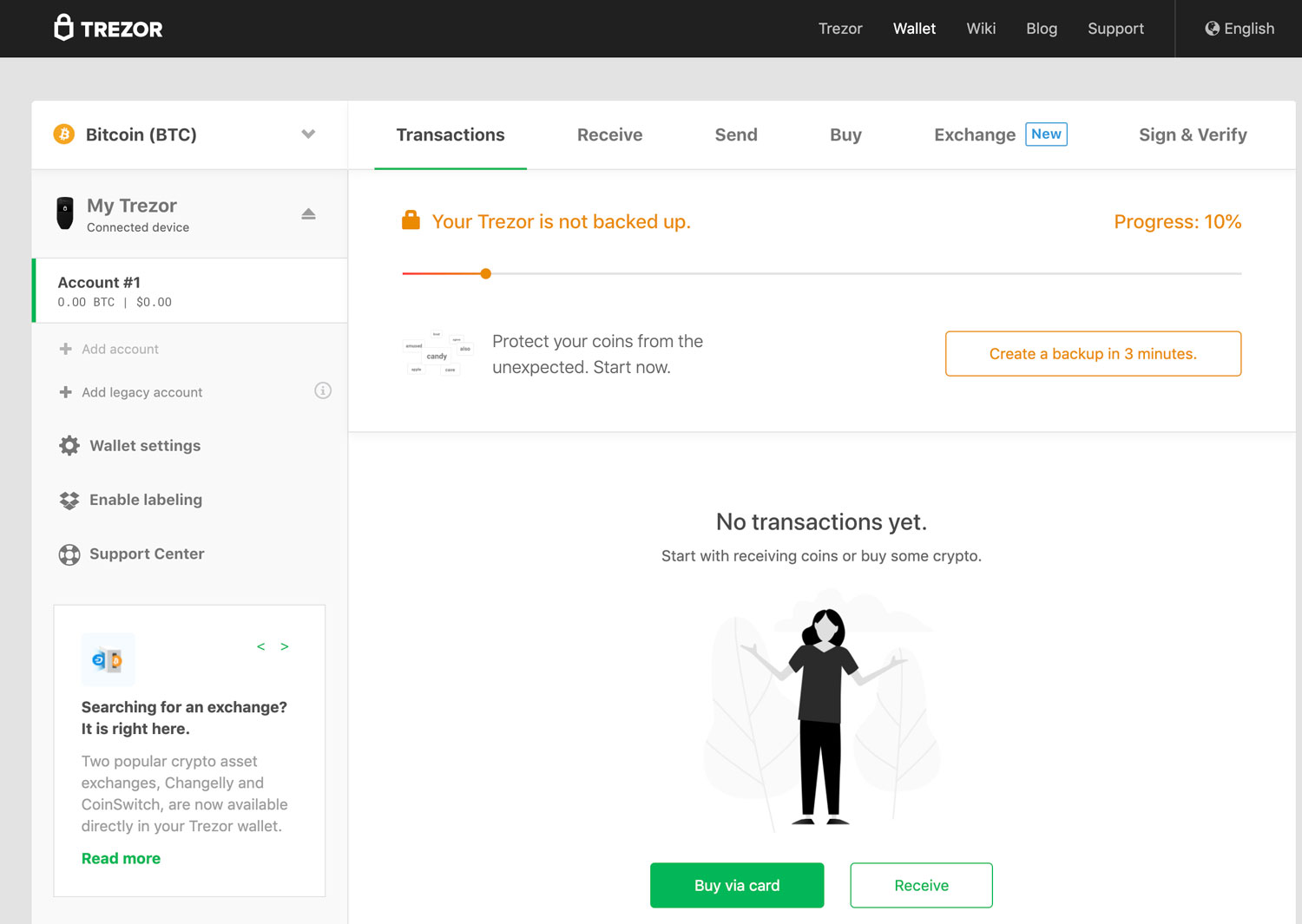 Read the instructions carefully (!!), mark the checkbox and click continue. One more reminder: do not keep a digital copy of your backup.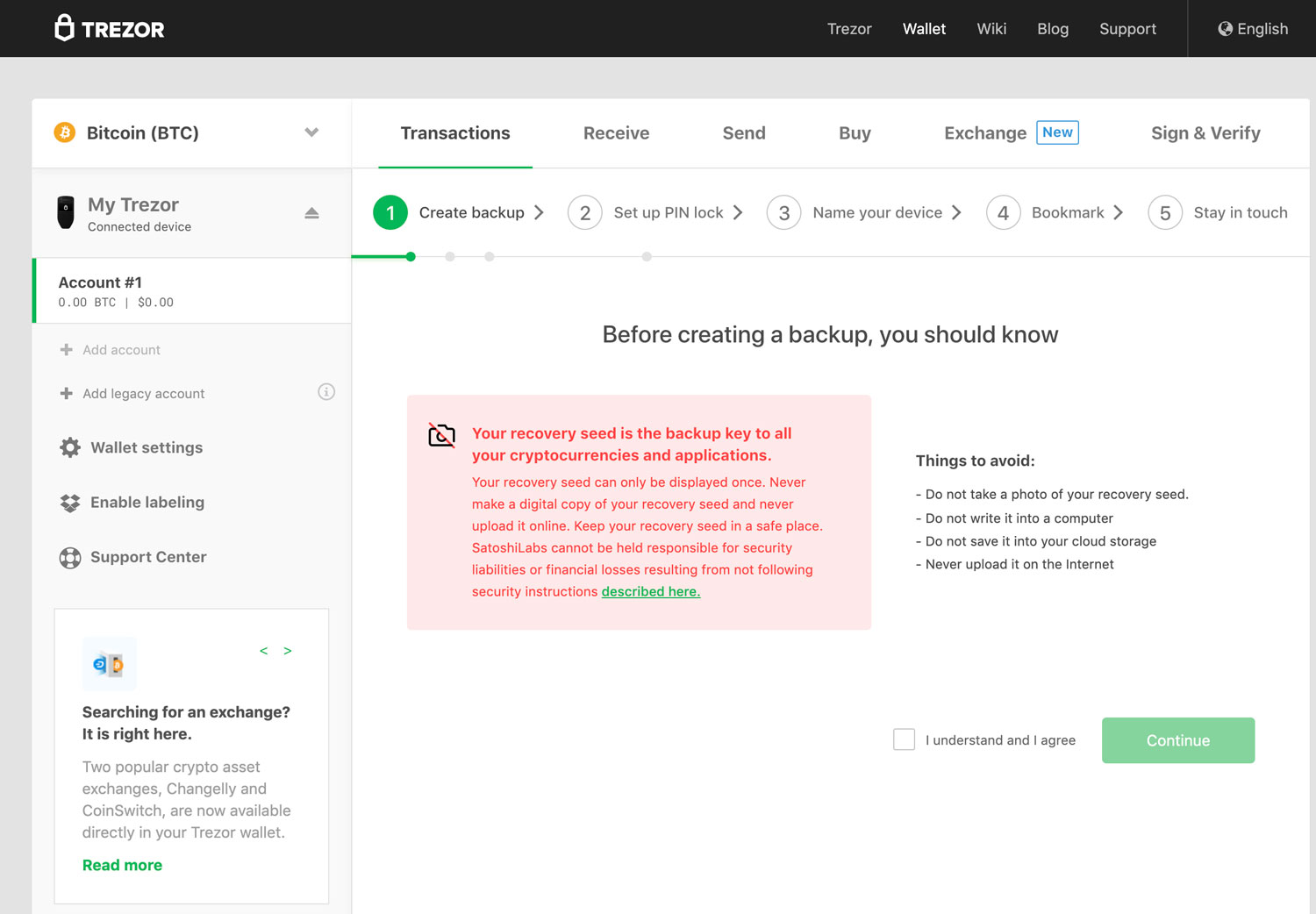 It's now time to write down your backup phrase on a piece of paper. You can use the piece of paper that came with the Trezor or if you've run into us during a bitcoin conference, use the handy 24 words bittr card!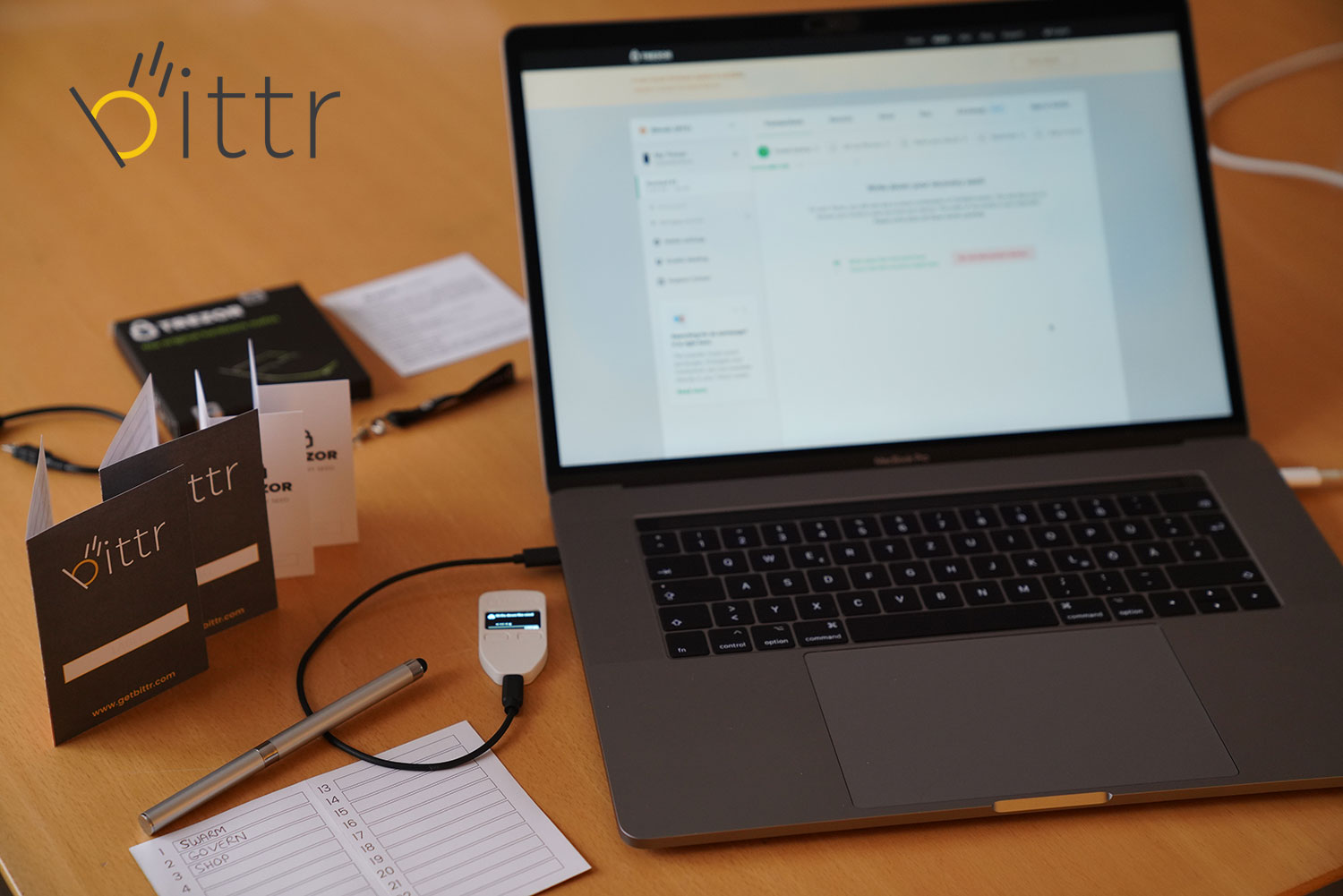 Please note, you will first write down all the 24 words, after which you will be shown them again once more so you can verify whether you've written them down correctly. Once finished, click "Continue" to set up a PIN lock for daily protection of your hardware wallet.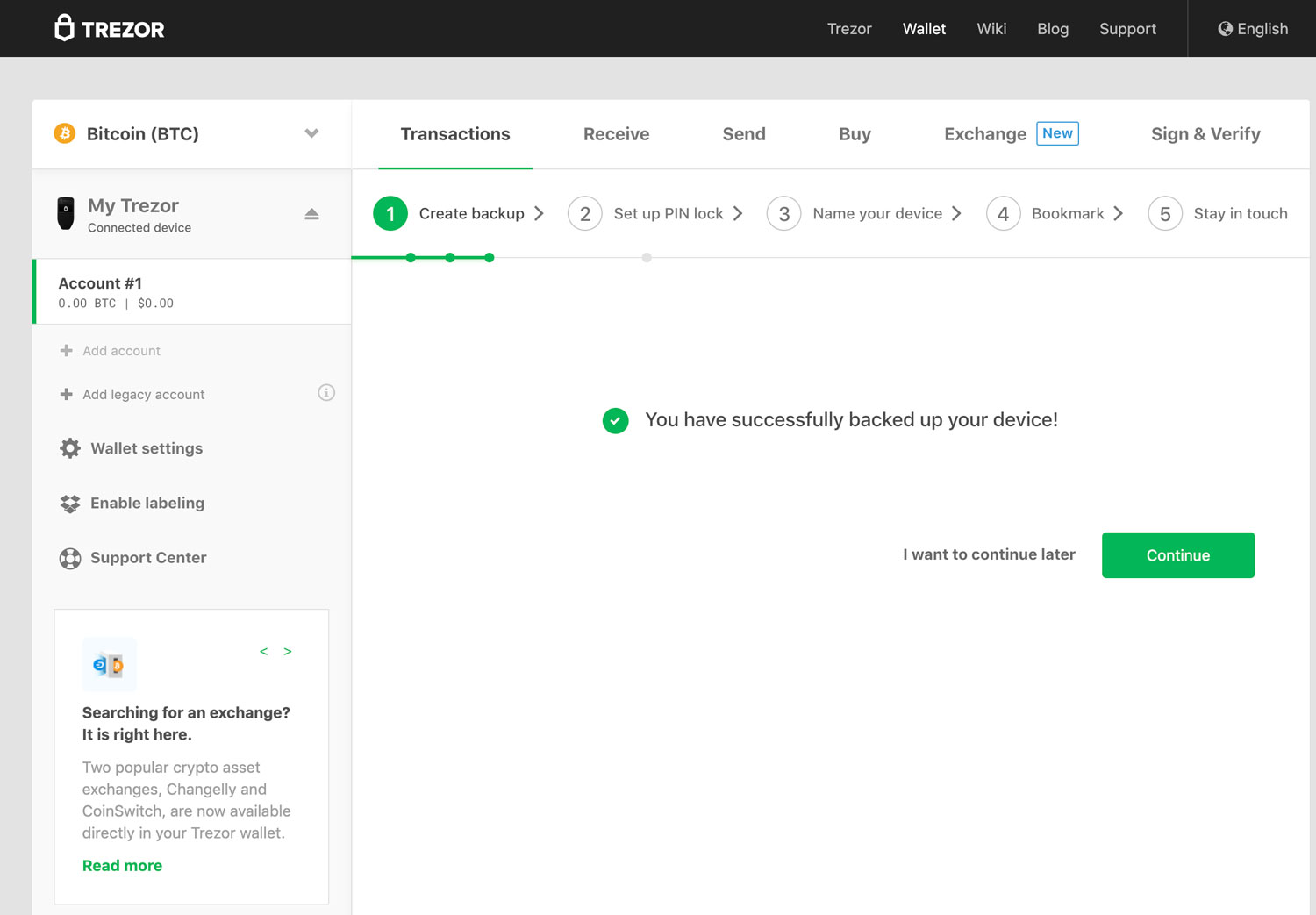 Setting up your PIN can be a bit tricky! The small screen of the Trezor will show 9 digits, which match to the pattern on your screen. We recommend to choose a 6 digit pin code (not related to your birthday or other commonly known personal data!). Enter the PIN code by clicking on the boxes on your computer's screen.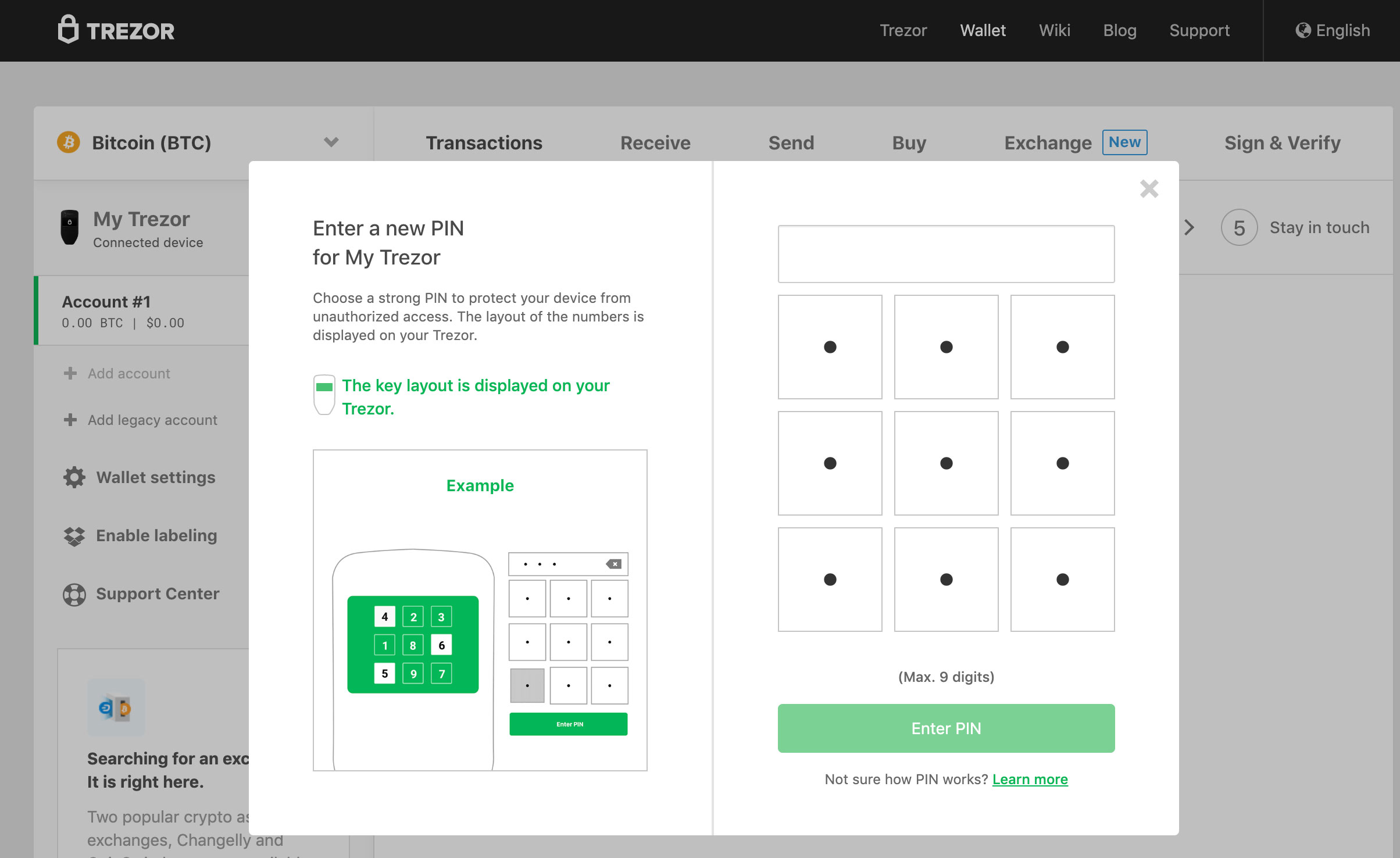 Once done, you will have to re-enter the PIN but pay attention! The positions of the digits on the small Trezor screen have changed! So check the Trezor screen and re-enter the PIN code.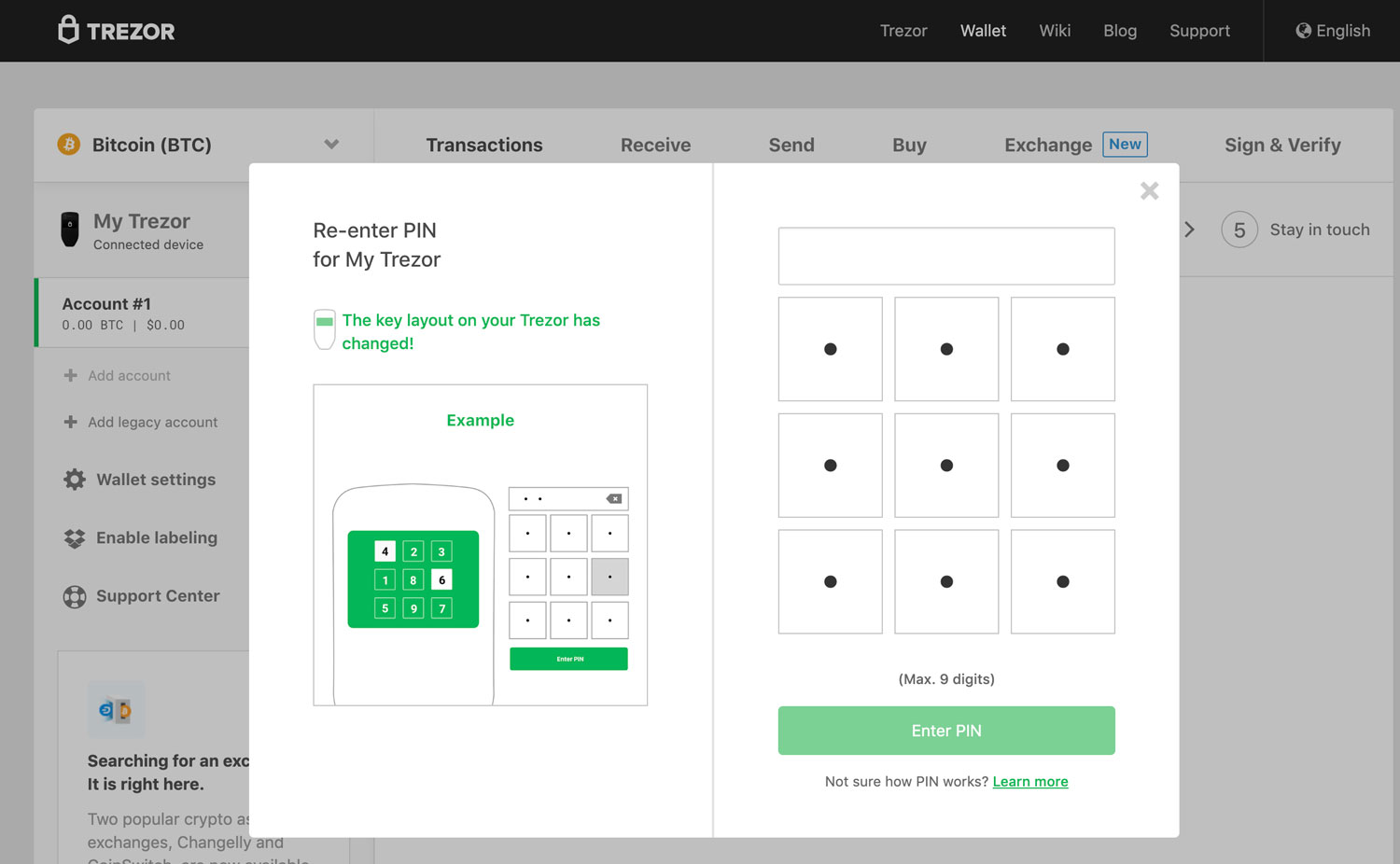 Now that you've set up your PIN, click "Continue" in order to give your Trezor a name, this will help you identify that you're connecting to the right Trezor. Enter your PIN to confirm (please note, the order of the digits have changed again!) and click "Continue".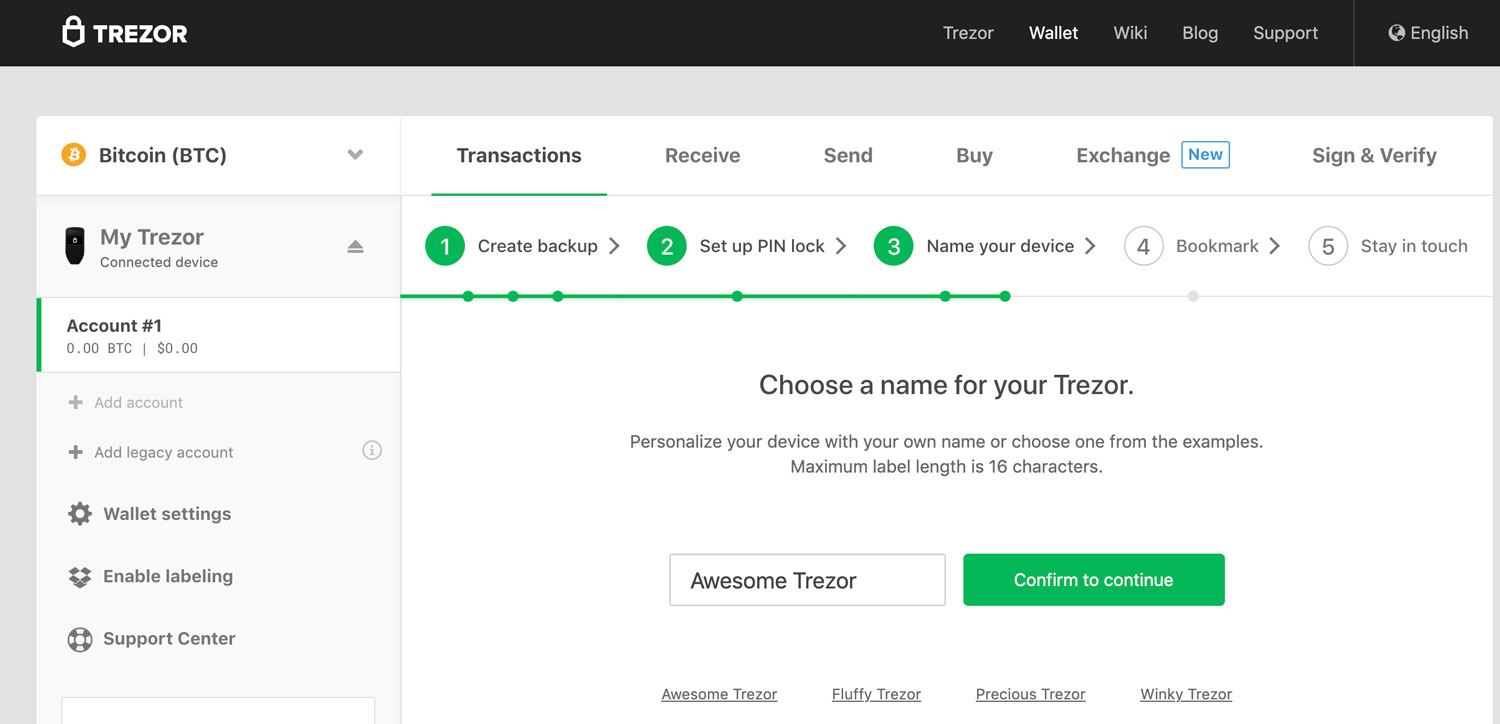 It's a good habit to never click on any link redirecting you to the Trezor wallet webpage and manually enter the address: https://wallet.trezor.io (we didn't make it clickable on purpose 😉) Of course, you can also bookmark the page in your favourites (Command + D).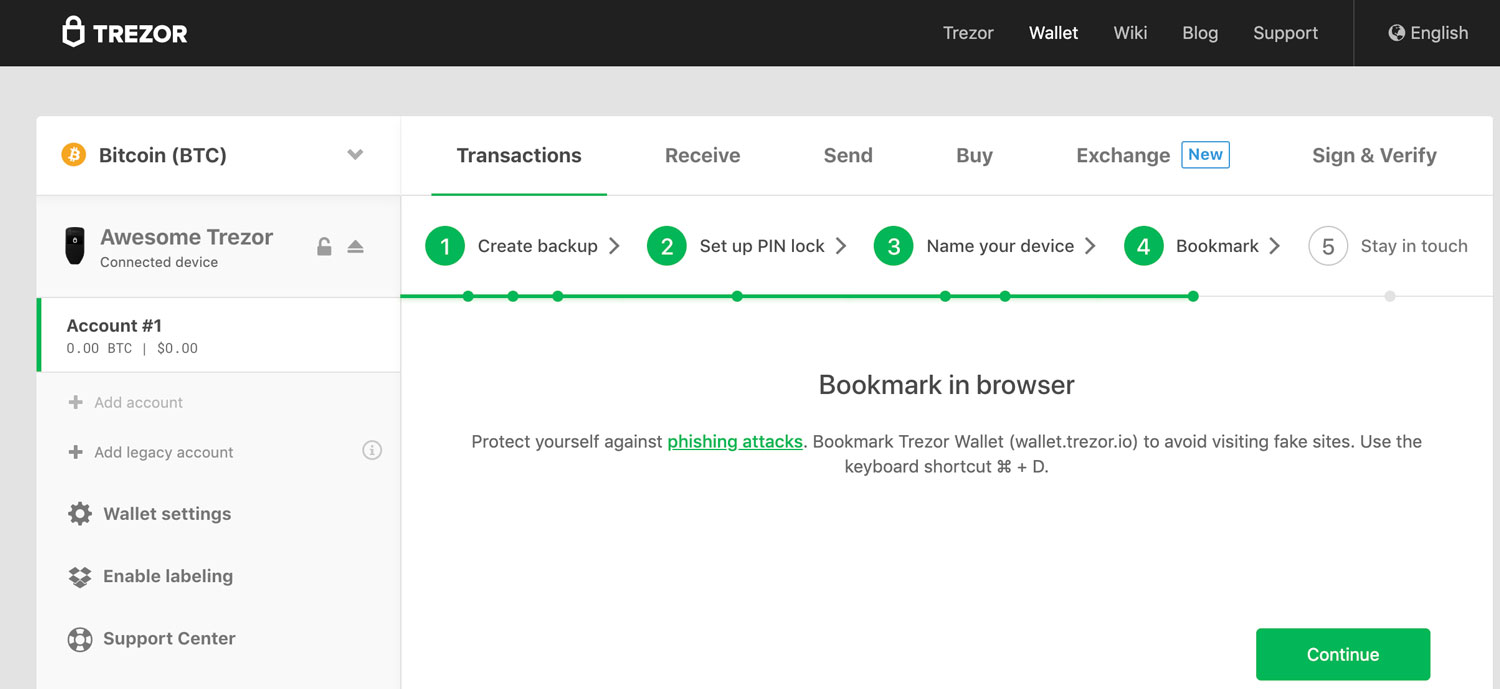 You're done! If you want, you could sign up for the Trezor newsletter or follow them on Social Media to receive updates from them. Otherwise, click "Skip this step", "Continue" and "Finish".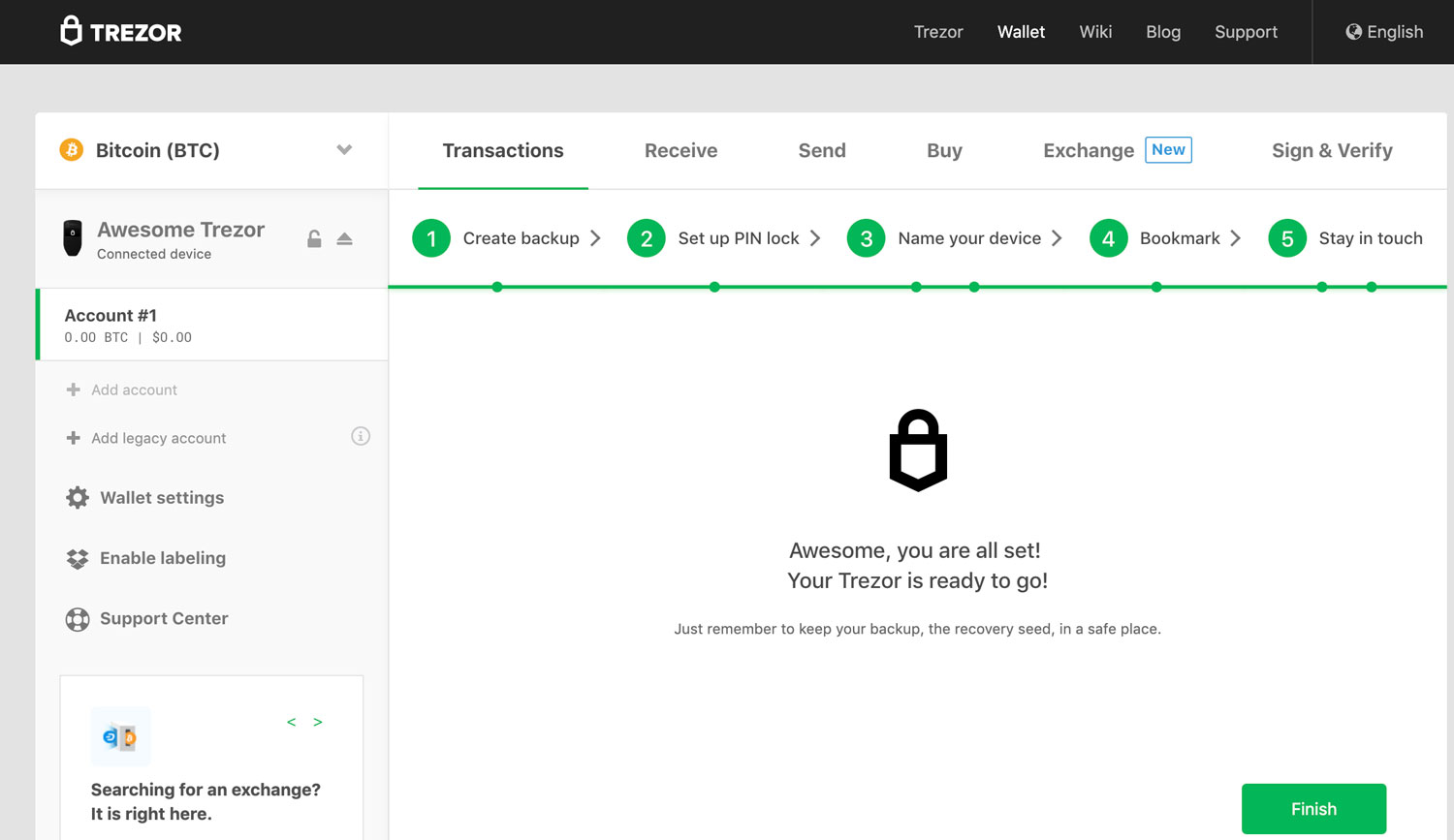 It's best to always run the latest firmware on your Trezor so now that you've finished setting up your Trezor, click "Show details" in the orange banner at the top. On the next page, you're asked to unplug the Trezor device, press both buttons on the Trezor at the same time and plug it back in, while keeping both buttons pressed.

If you've done that correctly, you can now click on "Upgrade to version 1.8.0" (or whichever is the latest as you are reading the blogpost). After installing the update you will be shown a signature of the running firmware, which you have to compare with the signature shown on the screen. If they are identicial, you may proceed. If they are not, your device may be compromised by a malicious update and you should revert the update immediately.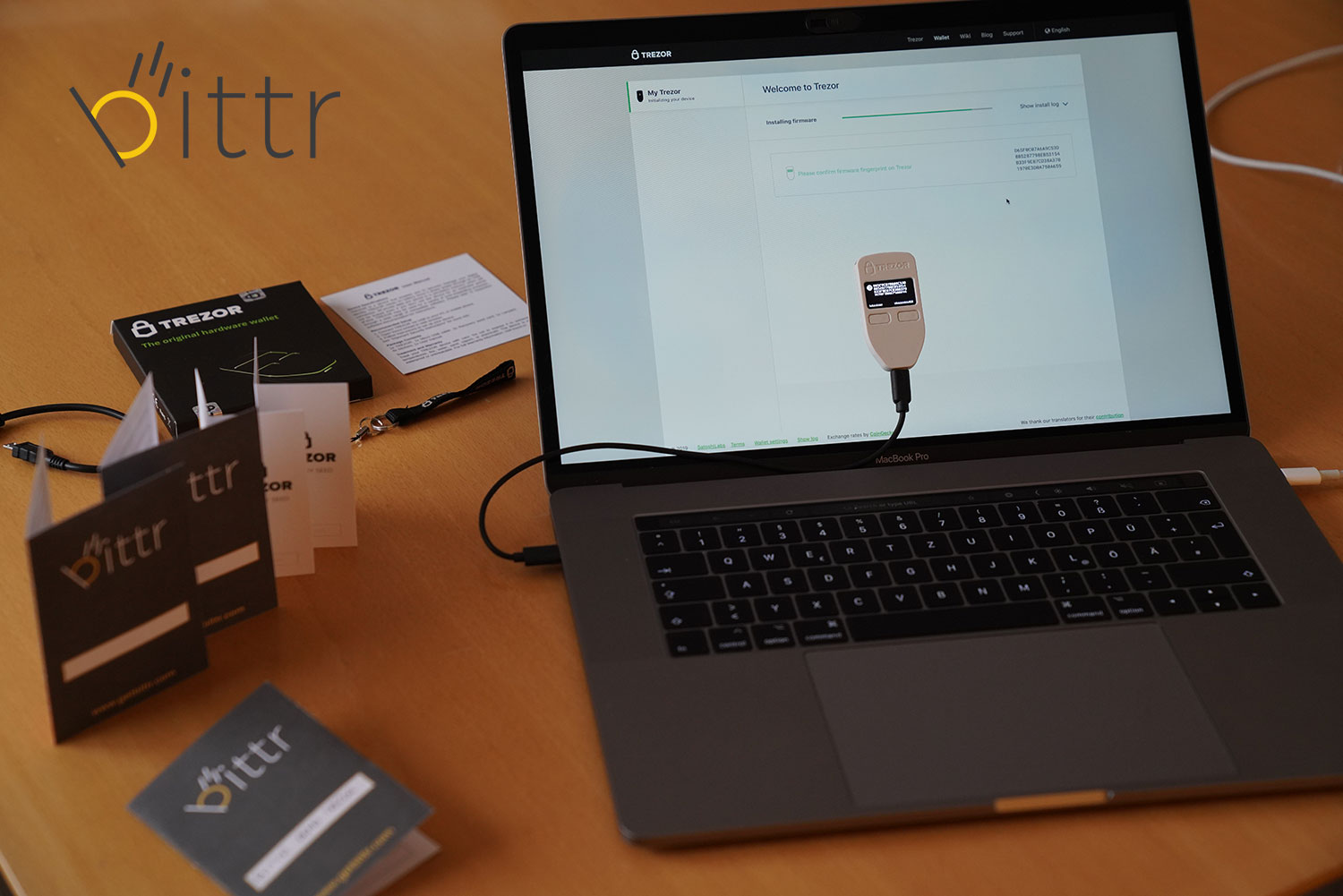 You're all set! Your Trezor is ready to go and you have a back-up of your wallet in case the device breaks or you loose access to it. Please store both your Trezor and the backup phrase in a vault, each of them in different physical locations.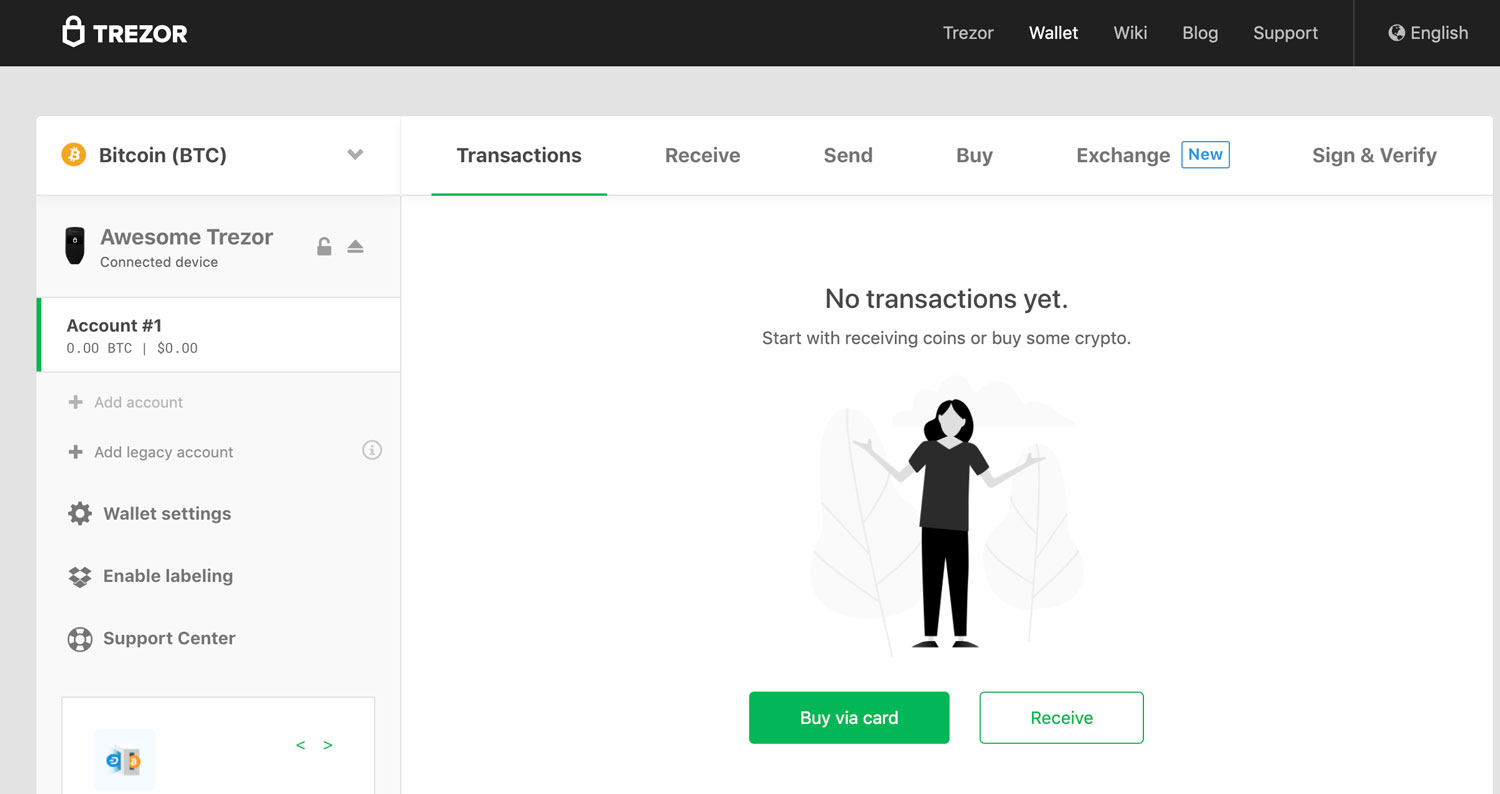 Once you have gone through the process of setting up the Trezor, you will be taken to the home screen, from which you can see your balance. If you click on the receive button, you will be shown the first address within your wallet. You may copy this address and share it with bittr so that we can deposit your bitcoin purchases into your wallet. Please note that there is almost an unlimited amount of addresses per account in your Trezor, so every time you have received something on an address, you will be shown a new address. However, all funds will still end up in the same wallet!
Do you have any questions? Reach out to us at hello@getbittr.com!